***
History was never my favourite subject at school except for one term in Upper IV when we had a teacher who was oh so different. I can't, to my chagrin, remember her name, but she was from somewhere in the north of England, with an accent that was hard to understand but lovely to listen to – until then I had only heard cockney or RP – long brown hair with red tips (she had submerged her long fringe in a bottle of red Quink which was completely permanent – and she rode a motorbike! All this excitement went a long way to prepare us for her approach to history! We were supposed to be studying the reign of Queen Anne. 1702 -1714 – the only dates in English history I know.
Dear old Queen Anne – seventeen children born and none survived. We were all so sorry for her. And then Miss…. did an unspeakable thing for the time: she presented us with a challenge. All thirty girls were given a topic each and told to research it and present it to the class. This was an unheard-of concept. Our previous teacher had taught history from the book – word by word – unenlivened by discussion or pictures. We knew there were history books in the world which were colourfully illustrated – but the Headmistress at the time, Mother Mary Francis, told us that pictures would distract us from the learning, after we complained. So Miss…. was a revelation.;
My topic was The Spectator and Addison and Steele. I spent ages in Ealing Public library trying to find out as much as possible and my classmates had the same sort of enthusiasm. On presentation day we had an exhibition and then tried to dance the Sir Roger de Coverly from instructions in an encyclopaedia. No YouTube then! I can't remember if we had any music! It was all great fun and I think we all learnt a lot. But fortune's wheel turned suddenly and the poor teacher had a terrible accident – both her legs were mangled for a long time. While she was recovering one of the nuns replaced her – might even have been the head who didn't like pictures in book, and was horrified when she found out that we had been doing topic work. Topics were banned thereafter for many years! It was back to the text books with a vengeance!
And so I come to the film "The Favourite". What a marvellous romp through a couple of years of good Queen Anne's reign. Somebody asked me how historically accurate it was. Well, I am no historian, but I am sure no one mentioned rabbits before. And although all the furniture had Queen Anne legs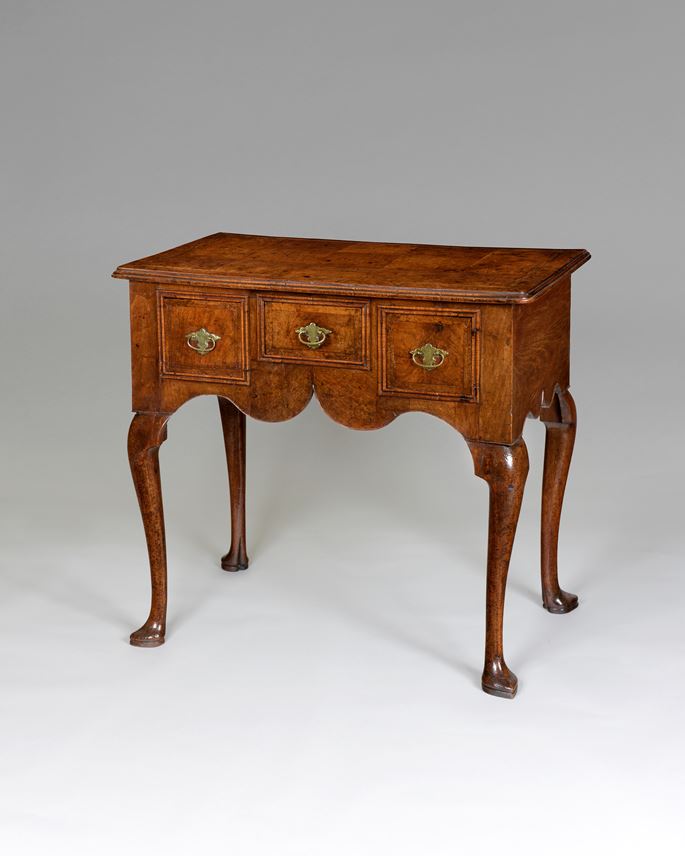 in the film I am not certain that they would all have been so bendy contemporarily! I loved the film for its sartorial whimsy: all the courtiers' clothes seemed to have been fashioned out of one bolt of beautiful blue taffeta. We had been told that Queen Anne used to wear skirts so wide she had to go through doors sideways. In the film she was just made out to be fat and ill. Which she was. And very short sighted.
Did she have a lover, then, of either sex? Who knows? I'd have thought she'd be too exhausted, myself, but the film made her have spurts of great energy when necessary! Go and see it – a good story, well told. But history?
15″ (38 cm.) All carved wooden doll with one-piece egg-shaped head and shapely torso with defined bosom and waist, elongated strong throat, inset black enamel eyes, all-around dot painted lashes, single stroke brows with dot accents, defined pointy nose, closed mouth with firmly-set lips, original facial complexion with cheek blush spots, original brunette wig, cloth upper arms, wooden lower arms with fork-shaped fingers, simply-carved wooden legs with dowel-jointing at hips and knees. Condition: generally excellent. Comments: English, early 1700s, the doll bears a very close resemblance to the famous wooden doll once belonging to Letitia Penn. Value Points: rare early doll is all original including painting and costume, wearing superb silk and brocade gown with original trims, matching woven bonnet, necklace, stockings with applied trim, black leather attached shoes with wooden soles and red buckles, and with attached crewel embroidery purse. Also included is an early box with two additional bonnets, and another box containing an early chatelaine. The doll is preserved in an early wooden box with transfer-printed early paper lining, and which also contains an early hand-lettered indenture paper for a British property, and an 18th century satirical print titled "People of Consequence".)