Yes indeed, I am jumping on the royalty bandwagon. Quite incidentally really, but last week, when I was still in Poland, I received an email advertising a Jubilee inspired lecture in Kingston. Normally this wouldn't have interested me at all – Kingston is an hour away, 6 30 in the evening is not a convenient time, and anyway, who cares. Yet my attention was caught by the promotional photo. Apicture of the Queen, no less. Or is it?
Some readers may remember that in the dim and distant past I wrote a couple of posts about receiving a magazine where the centrefold is a picture of my mother – in the Queen's coronation robes. This picture has been hanging in Kingston Court since 1964, unnoticed by many people until recently. It is hard to get to, and why would you go unless you knew it was there. I went with my son in 2004 or 5. It was a shock. It is enormous and very, very gaudy. But definitely my mother.
In 1953 my mother was pregnant, poor, and beautiful. She and my father had a highly developed social life and they went to lots of parties. At one of these parties, they met a struggling Hungarian artist called Arthur Pan. Apparently, he took one glance at my mother and exclaimed how she looked just like the queen. And then he immediately invited her to sit for him. My father was pleased, and they negotiated six sittings in exchange for six dinners, for the pair of them. My father attended all the sessions. My mother posed. Arthur Pan painted her face
and her hands. After the coronation he painted in the coronation robes from photographs.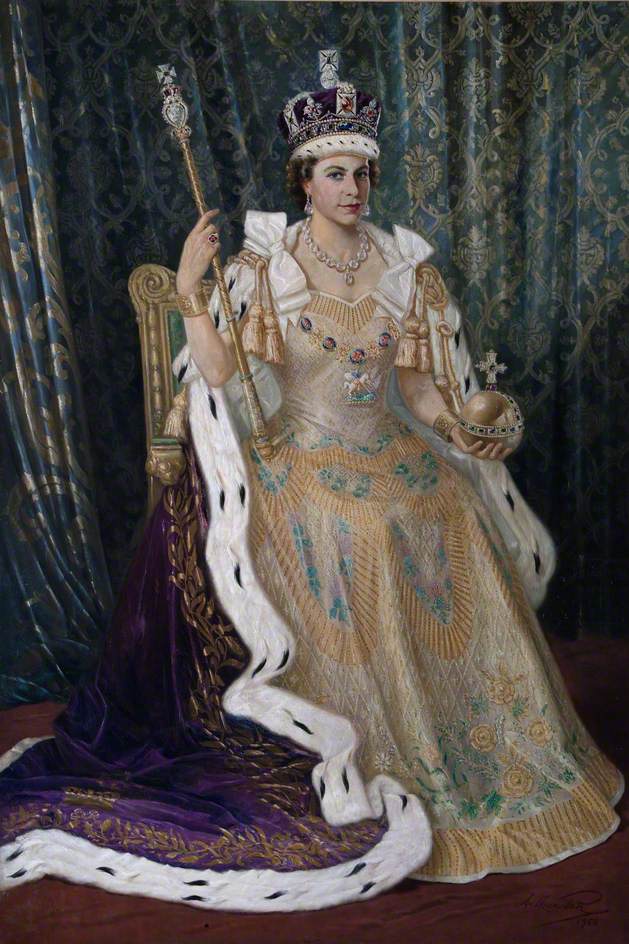 Coronation by Arthur Pan
So – the painting is not her dressed up as the queen – neither she nor Arthur came anywhere near the robes nor the orb and sceptre. The coronation came and went and in September I was born. On 31st October the first exclusive colour portrait was published in a little-known magazine called the Everybody's Weekly. It folded soon after, unfortunately. Throughout my childhood my parents kept thecentrefold framed on a wall. They knew who it really was. But no one really every talked about it. It was literally just part of the furniture!
By the time I was old enough to take an interest the paper was beginning to disintegrate – and then no one could remember the name of the magazine. The titles Illustrated London News and Picture Post were bandied about, (yesterday we learned that Athur Pan actually worked for the Illustrated London News, which is why my parents may have been confused) but even after visits to Colindale Newspaper Library and extensive searches on the internet, nothing showed up. And then a few years ago my son gave me the most amazing surprise – he had hunted down the actual magazine and managed to buy me a copy. It gave (and gives) me incredible joy.
He is good at this sort of thing. It was he in fact who had managed to track down the whereabouts of the original portrait in the first place, and he also found the Eventbrite invitation for yesterday's lecture!
Originally Arthur Pan had not been commissioned to paint the portrait. I believe it was an idea that came to him when he saw my mother. After it was completed, he sent it to the Palace and it was quickly approved as one of the official coronation portraits, and then sent to the Malay High Commission in Kuala Lumpur. When Malaysia became fully independent the picture arrived in Kingston. In the Courthouse there it says that " In 1963, Arthur Pan was commissioned to paint a portrait of Elizabeth II, in Full Regalia on 7 April 1964, Granting the Charter
to the Newly Created London Borough of Kingston upon Thames. (The right to be a royal borough.)
I have no idea when that sign went up as it is patently wrong, as proved by the magazine.
So yesterday evening was very exciting. I had managed to get in touch in advance with the charming
and knowledgeable Dr Ruth Brimacombe, who was giving the lecture on royal portraiture, and I had sent her some photos and my previous blogs about this curious picture. I had also brought some more items with me, and when my husband and son and I arrived a little early, she very kindly told us that she had managed to incorporate some of the information and pictures into her talk. I was thrilled.
My fifteen minutes of fame were wonderful. The talk itself was very interesting as she showed us a selection of the queen's portraits, and as we looked at them, I think most people there came to the conclusion that The Arthur Pan portrait was indeed of my mother. It's all in the hands.
The visual similarities between my mother and the Queen have always been obvious to a lot of people. But was she herself taken in? Did she ever think she had personally sat for this portrait? Or did she assume it was done from a photo? Or has she never actually seen it? I seem to remember that my father said that it was Prince
Philip who declared it a good likeness. But who knows?
And now the big question? Who knows anything about Arthur Pan? Wikipedia has a tinybit of information, but not nearly enough. After 1953 he went on to paint the Queen again, (not my mother this time, but was it another lookalike?) and that portrait is owned by the Ministry of Defence.
If ever you come across anything about him, do please let me know.
Thank you so much to Dr Ruth Brimacombe for letting this story be told to a slightly wider audience.