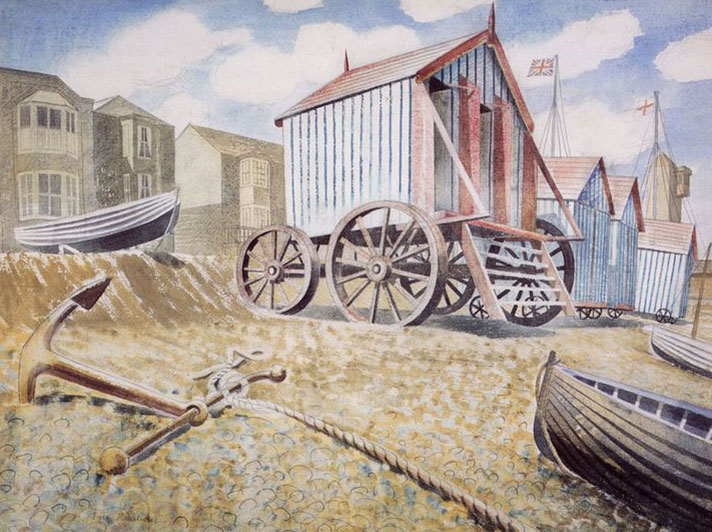 This beautiful watercolour by Eric Ravilious, painted in 1938, 39 X 52 cm actual size, is of Aldeburgh, Suffolk, where I spent many happy weekends in the 70s and 80s. I came across this picture just now in an exhibition catalogue from 2004, ant thought it captured the very essence of Aldeburgh, not as I actually knew it but as I recognise it. I never saw any bathing huts in real life, but there were many fishing boats, the beach is exactly like that, and the houses along the shore in their ice cream colours are never changing. My friends had a cottage very nearby, and the bracing sea air was always conducive to long walks and then plentiful food and drink.
Naomi, my friend's mother, who owned the house, and took in paying and non paying guests, depending on the finances of the moment, was an impressive woman. Brought up in Egypt between the wars, she came to England to become a ballet dancer and eventually made her living as an ice dancer. She married just after the war, I think, to a Breton count who treated her very badly, so eventually after having three sons, she gave him up for good when the youngest (my friend) was still very small. By the time I met her she was living with her brother and the youngest son in a flat in Royal Avenue in Chelsea, where she worked in a very posh shop and did interior design. She loved the opera and parties and we got on very well. For a while she thought I might become her daughter in law, but quickly forgave me when she realised it could not be.
But before all that came to pass I used to spend a lot of time with Stephen and his family in her delightful house. I remember going there for the whole of the Easter weekend one year. It promised to be a very holy affair. Naomi was a catholic convert and suitably zealous in her late middle age. She fasted quite seriously during the whole of Lent and Good Friday itself was a very difficult day for her. She was quite partial to a gin and tonic, but on Good Friday she was determined to abstain. Until it was over. We stayed up till midnight so we could all have a drink. Her relief was palpable. I couldn't understand it at the time but I must admit I do now! She also kept the rules of abstinence and fasting foodwise with some rigour. Whoever had written these rules, however, was not au fait with more modern twentieth century dining customs. The amount you were "allowed" to eat and drink was actually enormous, provided you ate no meat. As Naomi was a fabulous cook, I can't say I suffered at all for my sins. Probably gave into the sin of gluttony at the same time. But in order to keep our minds off our hunger we spent three amazing hours watching Robert Powell (Hannay to some) as Jesus of Nazareth in the new film. I have just looked it up. It was 1977. Robert Powell was the perfect personification. Naomi and I were absolutely glued to the screen that weekend, as he portrayed the perfect man. Handsome, good, clever, and kind. But predominantly handsome I'm afraid. So Aldeburgh is synonymous for Robert Powell.
Naomi also knew Benjamin Britten quite well, I believe, because of the music festival. In fact when I first met Stephen he asked me to write a fairy story for Uncle Ben, which I did actually start. Unfortunately he died before I finished it – and then the impetus for doing so died too. I still have it somewhere, but it might be embarrassing to read it.
After I got married Naomi was magnanimous enough to accept my husband as part of the family too. When we had children we used to go to Aldeburgh and spend weekends with her and her sons, which none of us has ever forgotten. Sadly her house had to be sold after she died or we would still be going now, all these years later. I believe that not a lot has changed The fish is still fresh, the pubs are still small, the beach is still pebbly, and the tiny very friendly church is still on top of the steepest hill, with hundreds of steps you have to climb. I miss it all.